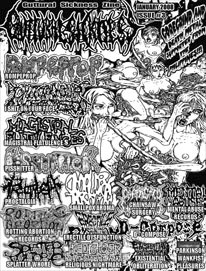 GUTTURAL SICKNESS #3
There also are fanzines in Philippines, it's not so easy to get your hands on it because of postage costs and poverty of many peoples there... Sometimes it seems importing a Philippinos bitch and marrying her would be easier, but after researches and deep cunt teasing (hu?) it's possible to read something from these lands...
GUTTURAL SICKNESS zine is very much into gore grind, grindcore and things like that, with little intrusions of brutal death... Keeping in mind this kind of music is very much into bowels, scato explosions on every walls and anything in the underwears, you could imagine the pages to be unreadable and full of poopoo questions, but it's not the case... The layout is clear, computer made (Reminds me of SEWER zine, a bit clearer) and the content is quite nice to read... The interviews are quite long and varied, it's not particularly deep questions but a mix between the informative ones and the more funny or sick stuffs, globally it sounds valid and quite personalized.
The reviews often contain positive views concerning the stuffs it vomits about... I have problems to agree because I'm not a big fan of goregrind and putrid shits like that, but someone who likes deep underground gore might be entertained, and it's quite cool to browse the legs of quite enthusiastic paper bitches, because it reminds me the cool Brutal death grind fanzines of few years ago... Underground grind fans of the gore could get in the ring and tongue-tickle the vaginal ring of the bitch while hand-reading her nicely scriptured legs, but other peoples might search for another pair of legs to feel more "at the right place"...
The guy who made the zine also runs a DIY label and releases gore and grind, so maybe you could trade stuffs with him...
Interviews: EXISTENTIAL OBLITERATION, ROTTING ABORTION Recs, I SHIT ON YOUR FACE, RELIGIOUS NIGHTMARE, ROMPEPROP, SMALLPOX AROMA, SPLATTER WHORE, PROCTALGIA, MENTAL ABUSE Recs, ERECTILE DYSFUNCTION, PISSSHITTER, MAGISTRAL FLATULENCE, PARKINSON WANKFIST PLEASURES, CHAINSAW SURGERY...
c/o Jamie Perez, 332 Diamond Street, Perpetual Village 4, Bacoor, Cavite, 4102, Philippines.
Email: In_gore_we_grind@yahoo.com