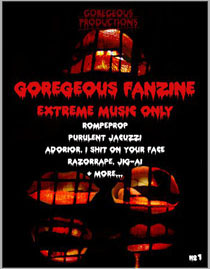 GOREGEOUS #1
This is not a porn magazine, neither a gore porn magazine.
What you could see is a new fanzine mostly focused on grind, brutal death and gore squelches.
Inside of the 20x A5 pages, there are mostly interviews, and then some adverts, and 2 reviews of old stuffs. The layout was computer done and provides no problem to my bleeding eyes.
A shame most of the interviews are short, it's mostly music based questions but at least the bands make a little effort to answer... It's nice to see a new fanzine talking about something else than black metal or death metal for black metallers... So encourage him to release one more, with more bowel symphonies and more talking gastric juice.
(The editor also runs a label of the same name).
Interviews: Rompeprop, Razorape, Purulent jacuzzi, Sevared rec, I shit on your face, Adorior, 5 stabbed 4 corpses, Dpos, Jig-ai.
Url: http://www.goregeousproductions.net
Email: Goregeousprod(a)gmail.com