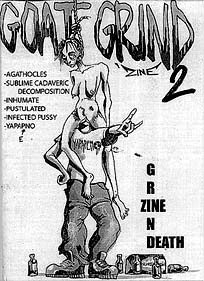 GOAT GRIND #2
Here's the second issue of this A5 fanzine given for free to about 1000 copies (I think). It's written in French and deals mostly with Grindcore and Brutal death metal of the newer kind, while the spirit of the zine fits the kinda 'new school' Brutal death and grindcore state of mind. You'll find a bunch of reviews and some long enough interviews with: PUSTULATED, INFECTED PUSSY, AGATHOCLES, INHUMATE, SUBLIME CADAVERIC DECOMPOSITION, YAPAPENO.
You'll find the usual kind of bands interviewed in a Grindcore/ Brutal death zine, and one should be a lot into the technical and ultra brutal kind of death metal to get into this specialized zine, but wait: it's for free :-)
As always, I don't always agree with the reviewers' opinions, but it's always a matter of tastes...
It's a nice zine to find new bands if you are not well aware of things happening in the brutal underground, and GOAT GRIND seems to be a nice way to get exposure in France!
c/o Napierala Antoine, 27 rue Chef de ville, 92140 CLAMART. FRANCE.
Email: goatgrind@hotmail.com