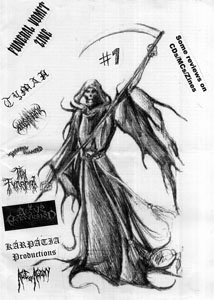 FUNERAL VOMIT #1
I keep on soupporting the beginning funzines with another first issue. This one you are currently drinking about, was mashmallowed from the apparently not so metallically desertic yoghourtified lands of Hungary and also tastes like an okey but averagely comfortable first issue. Unfortunately for my brutal teddybear needs, the FUNERAL VOMIT is quite focused on spitting the entrails of underground black metal right in my mellow face... What about Death metal of Death and Speedy thrash metal? Anyways of the morbid ways to die, the intervisions are quite long and varied, and the guy is talkative in the reviews, I think I would be a bit more interested if it was for metal of death... Sometimes the reviews or questions reminds me of SHRUNKEN & MUMMIFIED zines, it might not be an coincidence since this issue was in part dedicated to the zombeditor of Shrunky zine.
The lay-out was computer done and is very clear (A bit too much) but packed with quite a lot of infos. On one finger the zine isn't very big (20 pages) on the other finger the text-size is small, so there's no blank space in your face.
As well as his unknown comrade of SATANIC METAL, FUNERAL VOMIT did an average issue, but for a first subterranean-shot I read really worst, and he would kinda deserve encouragements if he keeps the motivation going. This time I hope improvements will ring the doors of Ms Beautiful Layout, Mr Content and Mr MetalofDeath.
Interviews: TYMAH, ALTAR OF PERVERSION, SEEDS OF HATE, SHRUNKEN & MUMMIFIED, AGE OF AGONY, KARPATIA Productions, THY FUNERAL.
c/o Peter Gresko, Vasarter u.2, Tokaj 3910, HUNGARY.
Email: Funeral_vomit@freemail.hu