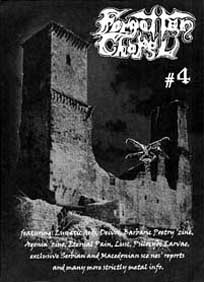 FORGOTTEN CHAPEL #4
Allright!! It's fucking cool to read a new issue of FORGOTTEN CHAPEL! The zine of Mateusz is still focused on undergound extreme metal with a bunch of cool interviews, quite honnest reviews and some refreshing articles. So you can read inties with DEIVOS, LUNATIC GODS, BARBARIC POETRY Zine, AGONIA Zine, ETERNAL PAIN, LUST, PSCILOCIBE LARVAE, some scene reports, a funny blind test, nice opinions, and other stuffs... the whole packaged in 32 pro printed black and white pages, with a nice lay out!
A good knowledge of metal can be felt in this issue, it's mainly old school in the spirit (but not too much!) and the editor has a mind of his own!(Ah!)
Fanzines are essential since I can't afford to buy a portable computer for pleasant readings in the water closets! Ah. Most of you might be like me, so order this issue and have fun! Paper zines are ways more alive and show the real spirit of die hard metal fans who fight for their music, it at least have more personality than your black painted and spiked as fuck computer screen! Forget these damnit "Business state of mind" webzines and support the real underground!