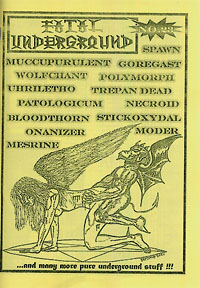 FATAL UNDERGROUND #23
To review some fanzines written in languages you don't understand isn't necessarily a very good thing, but at least the lazy reader is aware of the fact the pile of rotting paper actually exists.
FATAL UNDERGROUND is active in he German underground since more than a couple of years, and what you are actually reading about is there 23th issue... It's quite an achievement, especially in the current fucked up situation that begins to last more than a little bit...
The fanzine is still A5 sized, underground focused, with an ok computer layout.
The interviews features some bands you might have never heard about (MUCUPURULENT, SPAWN, GOREGAST, WOLFCHANT, POLYMORPH, UHRILETHO, TREPAN DEAD, PATHOLOGICUM, NECROID, BLOODTHORN, STICKOXYDAL, ONANIZER, MODER, MESRINE...).
There are also a bunch of reviews and few other stuffs.
You can send your extreme metal promos for almost sure review.

c/o Mario Klein, Zerbster Str.23, 06844 DESSAU. GERMANY.
Email: fatalunderground_leo@freenet.de