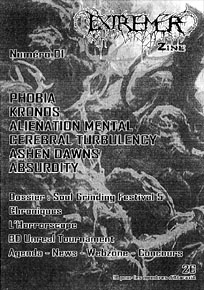 EXTREMER #1
Here's a new French paper zine mostly focused on the modern kinds of brutal death and grindcore. The whole is written in French and the layout is clear.
The interviews with PHOBIA, ALIENATION MENTAL, CEREBRAL TURBULENCY, ASHEN DAWNS, ABSURDITY and KRONOS are long enough, even if more depth would be welcome.
The critics vary between quite honest reviews, and some that involve some friendship... But it's a first issue, and Rome wasn't built in 20 pages ;-) You can also find a live report, a brutal death horoscope and a badly drawn comic...
I must say I have very different tastes from those of the editors, and I don't know if a metaller who like it old school would dig these 20 pages, but the French underground Brutal death fans who like the current Czech and American styles might be interested. I wish EXTREMER good luck in the future!
c/o Extremer Zine,
27 rue principale,
57220 HINCKANGE,
FRANCE.
Email: Extremerzine@hotmail.fr