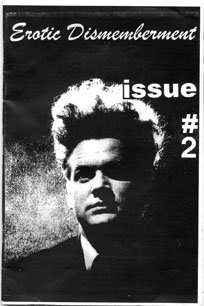 EROTIC DISMEMBERMENT #2
This new A5 fanzine from the United states of harmonica reminds me what was often published before all kinds of sterile spiders vampirized the metal scene with their boring webs; It looks do it yourself and the content isn't focused on a particular kind of music but rather on a state of mind: Underground and extreme music, whatever kind of alternative it might choose... In a way it might remind of DEFIANCE OF GOTHIC NIRVANA, because of the cut and paste layout, the pictures and articles to be inserted here and there, the kind of music to be chronicled and the A5 (Kinda newsletterized) size, but the content isn't so provocative as the tone is more serious, or sober. The interviews are okey, not too focused on the usual promotional questions and so it offers a bit of variety... It might be a bit longer to offer more mental dissections. There are some music reviews (all underground) and some movie chronicles, located somewhere between the describing, the fuck you, and fanview... Maybe he would need to review more stuffs he doesn't like to offer the readers more pleasant crap-bashing moments héhé. I already knew a part of the content so the soap-prize wasn't too gastrically zigzaging. If you like deep underground scriptures that deal with any kind of alternative musics from the extreme, might it be noise, metal, punk or the dirty likes, you might find DJ EROTIC D. to be a nice coffee machine mama-groover (lol). You might get it in trade from something else (Not sure if used underwears are welcome, though).
c/o Sephirotic publishing, Po Box 270423, ST LOUIS MO, 63127, USA.
Email: No email adress... Move your ass, you little clicking beggar!