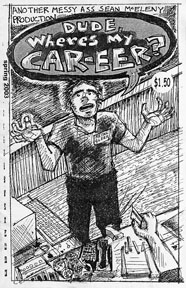 DUDE WHERE'S MY CAR-EER?
This zine has nothing to do with music, but the DIY nature of the whole kinda justifies its presence on my untrue webzine... It contains mostly drawings and comics, with an humoristic state of mind. Since the editor apparently doesn't like very much his current job of seller in a little shop, you can find all kind of anecdotes and personal opinions about (for example) what this old lady did at this moment and what the seller really wanted to answer, to kick her slimee ass... The drawings aren't well polished, it sometimes looks quite raw, but it kinda suits the tone and some illustrations keep a cool sense of the forms so that it looks cool... Well, nothing essential, but it's nice to receive this kind of A5 way-of-expression in a package, when the free time is begging for activities ;-)
There aren't many more zines of this kind nowadays, many peoples forgot to draw and prefer the web, the clicks, and the cyber "friiiiiiiiiiiiiiiiiendswhodon'tgiveafuck"... This issue is pretty old, I'm not sure if it's still available, but there's no contact address anyway. I only know it was released by "Messy ass Sean McEleny Productions".