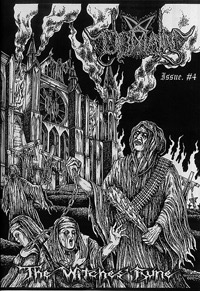 DOMAIN #4
This isn't a new fanzine, but it's the first time I can read an issue. To make it clear at the very beginning: This is a metal metal zine that obviously deals with underground metal, with a tendency to take it the die hard way: Thrash metal, black metal, black death metal are the main genres.
The interviews aren't bad, some are cool, some are more than cool; When he knows the interviewed ones a bit more it can lead to nice interpukes and volatile exchanges of acid vomit. The global layout is cool/ nice: It generally has some drawings around the texts (Reminds me some SLAYER Mag issues... Little problem, sometimes it hides the texts a bit) or it's the usual cut 'haine' paste on black background.
Now, a less positive point has to be pointed out: Many of the reviews are short and very positive, so it's not very informative... Maybe he strictly wrote about releases he liked; this explains that, you could understand you'd like this or that band if you're a dire hard fanatic of metal metal (the real metal way, of corpse)... But if you're not totally metal metal (For example half metal metal or 80% metal metal, which would decrease the metalness of your whole metalization, huh?) you should be less metalizing.
His English isn't perfect, but I don't have problems to understand (And I guess those who search for this kind of (s)exotic zines have developed since a long time some kind of "necro translator" that helps them to automatically correct the miss-takes while reading... So maybe those who complain are fresh newcomers who don't have the keys to metallize x2? héhé)
This fourth (t)issue also contains and IRON FIST poster; The editor sent me a 3 tracks promo CD of this band, but I'm not sure if it comes with the zine, so don't order it exclusively for the promo CD! Ah Ah.
DOMAIN could be a quite good read for big fans of metal who like it die hard and (th)underground, but it's not particularly a marble-statue breaker because other zines of this kind exist and it's more or less the same quality.
Now, it's you to know how many zines you need each month (Yes, "Never enough" could be possible, if you really want it... All metal metal metal).
Interviews: WEAPON, WITCH HAMMER Recs, SABBAT, SICKNESS 666 drawer, ABIGAIL, ETERNAL OATH, LEGION OF DEATH Recs, INFERNAL EXEKRATOR, IRON FIST, HAYAGRIVA.
c/o /. Syaiful, Blk 670A #17-503, Choa Chu Kang Crescent, Singapore 681670.
Email: Domainzine@hotmail.com