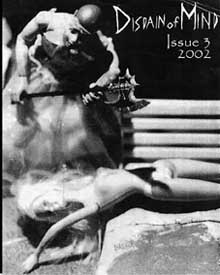 DISDAIN OF MIND #4
For a 4th A4 issue there's no real content here. Only some reviews, some infos...
More interviews and reviews would have been welcome!
And the layout isn't very good as some parts are hand written... But I think the zine is spread for free during gigs, so it's ok. I wish them to work more on the thing to add more content such as long interviews, more reviews (such as the ones they do now) and some artworks (for exemple).
I was told a webzine is in the work, so it may offer more content as a webzine needs less work than a paper thing.
C/O Travis Helton, PO Box 900 Issaquah Wa. 98027, USA.