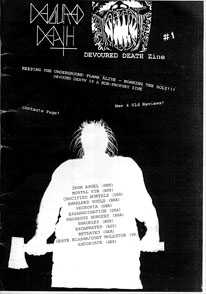 DEVOURED DEATH #1
DEVOURED DEATH is a Death metal zine! And in this case, Death metal means Death! Not the melodic, not the gay, not the über technical, not the blablablasting... No!! The obscure, the ugly, the repugnant... And in this precise case, the deep underground!
So, this fanzine ran by Steven of CRUCIFIRE is focused on the underground obscurity you can drink in the golden chalices; if you dare to put your head in the holes of the surviving underground. The lay out is kind of cut'n paste, but not over pasted everywhere and unreadable (Contrary to so many current 'old school' zines... I'd rather call some "Shred & throw & glue... & don't read it!" Than cut'n paste! héhéhé), but quite clear and easy to read.
Of corpse, the content of the creeping zombie isn't pure Death, it also has touches of black and thrash metal (The old way), but which zine can be totally pure in that manner?
I think the reviews are a bit short, more blood, tears and exploding skulls wouldn't be a bad idea from time to time.
The choices of the bands concerning the interviews isn't necessarily my fave, but that's also a matter of tastes, and possibilities (!!! If more bands dared to answer inties, zines could only be better... But they probably prefer to spend their time complaining about stagnation!).
This is a cool zine for fans of Underground Death metal (demo days!) who don't dislike blackened black metal (Ahr!) and old school thrash... an undergound way! (Just to keep it a bit more underground).
INTERVIEWS: IRON ANGEL, MORTAL SIN, CRUCIFIED MORTALS, EMBALMED SOULS, NECROPIA, EXSANGUINATION, NAUSEOUS SURGERY, SHACKLES, EXCARNATED, BETRAYED, GRAVE MIASMA, EXCORIATE...
c/o Steven, Po Box 1648, GEELONG, VIC 3220, AUSTRALIA.
Email: Crucifire@hotmail.com