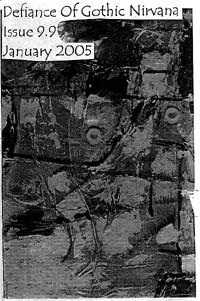 DEFIANCE OF GOTHIC NIRVANA #9.9
This is not a fanzine, but a mini-zine, you fart-sucking poofter! I could read several issues, and each time you have a bunch of reviews (Very varied musical styles, as well as the small tape label of the editor), few articles (That could make you think about pollution, disrespect of nature...) and sometimes 1 or 2 interviews.
If you write him, ask Jeremy to send 3-4 issues of the newsletter in trade of something, so that you can receive the content of a fanzine.
What more to say? There were quite a lot of mini-zines of this kind before the massive web engorgement, especially in the D.I.Y punk/ HC scene, and it's cool to see some peoples perpetuate this way of expression.
More zines!! More paper!! Fuck the sterilized overground metal web mentality!
Contact: Jeremy Bequette, PO Box 771142, ST. LOUIS, MO63177, USA.
Email: stlunderground2002@excite.com