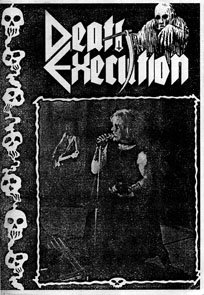 DEATH EXECUTION #1
Let the roots of the deep underground penetrate your wounds.
To tighten your arms and legs, and strangulate the social stupid from your pores (impure).
Let it breath, flow, blossom.
The healing by obscurity.
This first issue of DEATH EXECUTION zine isn't bad. Apart from the "usual" old school content (At least for me... Every zines seem to be old styled right now), I detected and enjoyed the fact some deeper thoughts occur to emerge from the lines of this quite old looking A5-sized zine. It seems a part of it is written by the editor for himself, contrary to the overcontrolled and prevailing cerebral sterility of the web. So the content is quite personal and there are some surprises (Such as the "No bands, no labels, no releases" article). There are also quite long interviews, a bunch of reviews, live reports... I regret the fact the same bands are more or less always supported in the obscure underground (Especially since some are just average ones...), but that might also be a matter of putrid tastes, and anyway I think this first issue will please fans of old school extreme metal who keep on longing for sarcastic underground interments!
Interviews: HELLWITHC, UNPURE, ORCUSTUS, ANAL VOMIT, REPUGNANT, SARCOFAGUS, SVARTSYN, SIGH, NECROVATION, DARKTHRONE, MORTUARY DRAPE, NIFELHEIM, OLD, KATEDRA...
Contact:
R. LAGERGREN
SALIXV─GEN 2 B
S-291 41 KRISTIANSTAD
SWEDEN