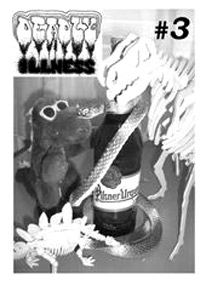 DEADLY ILLNESS #3
Wheel... Well, apparently it didn't turn too well lately since this issue isn't the best DEADLY ILLNESS procreation.
In fact Csaba "The polar" did a nice choice of bands to intervisionate, but the effects of viagra max tend to decrease once you notice the intervisionings are short. (Sometimes I wonder if some of these new death metal bands like to talk about Death... Or are they cursed by portable phones?) His questions aren't particularly long, but the answers aren't particularly either... Hopefully some inties are longer or "more more"...It doesn't look like a third issue, but more like a mini zine done by fans without too much stress-to-kill... Hope the 4th one will contain more ugly bears! So Csaba, please kick your ass, and so kick mine...
Interviews: ADRAMELECH, ADVERSARIAL, ASCENDED, AVE MARIA, BASTARD PRIEST, BAXAXAXA, COPROFAGI, DRAINLAND, GRIND CRUSHER, NAUSEANT, OBLITERATION, REPUKED, SONIC RITUAL, SWALLOWED, UNDER AL KRITIK, VASAELETH, WITCHSORROW, YDINTUHO.
c/o Poller Csaba, Budapest 1183, Nimrod u. 73, Hungary.