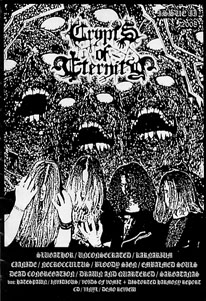 CRYPTS OF ETERNITY #2
More guts and fuming atmospheres of the old, once creeping necrotic Death metal from the graves!
Nowadays, pure Death metal zines are rare, and it's great to meet a publication that almost strictly focuses on metal of the dead.
This second issue, that shows some improvements since the first one, contains quite a lot of morbid names we quite often saw the last months (In the underground of exquisite rottenness), so you could read interviews with: Drawn and quartered, Embalmed souls, Karnarium, Cianide, Slugathor, Dead congregation, Bloody sign, Unconsecrated, Sargatanas. These sounds like the questions of a fanzine, it's quite personalized and cool. Sometimes I'd like it to explore more dimensions in space and time... But generally the bands are quite "talkative", at worst no intervision fucking sucks.
This zine is a bit bigger than A5. Layout is computer done, but nothing annoying, it's quite easily readable.
I think Death metal supporters and corpse temptators would like it, so if your fingers aren't too fucked up by leprosy, send 6 $US to get your copy.
No paypal, Peru sucks for this right now.
c/o Ricardo Lucas, PO Box 25, Lima 41, PERU.
Email: lucasinhell@msn.com