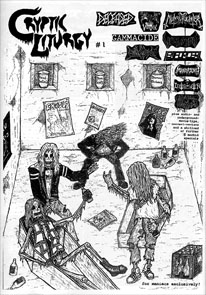 CRYPTIC LITURGY #1
No peace and love, but pissed an low.
Drunk on formaldehyde. We are the morbid hippies!
Yurgh, readers and red hears, I'm excavating more dangerous cavities from the enormous underground carcass to bring more necro-caviar in your putrid mouth. Yurgh!
The editor of this new fanzine is in the metal-metal world, but not in a too rigid die hard/ tough way, it's more like "Drink hot toxic beers and engulf in some feeling", yet in a not too brainlessly drunk way... Some nostalgia is in, some beer is in, and we read.
The interviews are quite cool and not bad I would say. There are some reviews (Mostly old stuffs he likes) and some live reports. Lay out is cut'n paste.
This fanzine reminds me some old school zines' state of mind from few years ago, it's more alive than some current sterile worship and not too incrusted with black metal bullyshit. It's not exceptional or beer-pack blowing, but a quite cool read for those who like relaxed old ways of death/ thrash/ metal.
Interviews: DECEASED, GAMMACIDE, MANDATORY, DEATHRONATION, CHRONIC TORMENT, ENFORCER, VIOLATOR, WITCHTRAP, VORTEX, NUNSLAUGHTER...
c/o Alex Kuhlmann, Sollingstr. 5, 44805 BOCHUM, GERMANY.
Email: Cryptic-liturgy (a) web.de