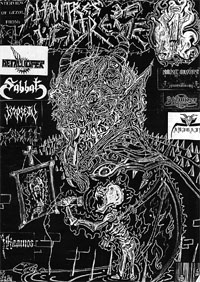 CHANTRES DE L'EXTREME #1
Here you have another new paper fanzine moving his ass for Satan!
Since this issue, the guy has changed the moniker for a better one: KASTRATÍR. This lets you imagine the editor likes what sounds old school, with a preference for things burning in the bestial black metal or traditionally beer injected, but other kinds of metal with two balls are featured as well.
Interviews are generally a bit short in my opinion (more than 11-12 questions often turns better), the interrogated ones are METALUCIFER, SABBAT, IMPIETY, TANKARD, KAAMOS, NIHILISTIC HOLOCAUST, ATOMIZER, ABIGAIL... There are also reviews and few articles, and some touches of bad humor from here and there.
There's nothing different from other zines supporting these kinds of extreme metal, but for a first issue, it's big and seriously done enough.
For the forthcoming issues, I wish the editor will show a bit more personality and will fulfill every blank spaces with horny pictures of the devil.
Good luck KASTRATÍR!
Contact: PAUL Fabien, 28 Rue Hinemar, 51100 REIMS, FRANCE
Email: kastrator@hotmail.fr