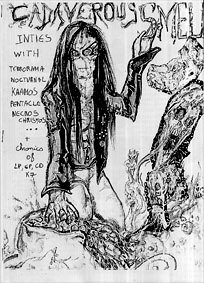 CADAVEROUS SMELL #1
New fanzines printed on real paper are always welcome!
This time, let me introduce you to the putrid emanations emerging from the totally (old styled) cut and paste pages of the CADAVEROUS SMELL! The zine is mostly focused on old school kinds of metal, eventhough the editor has nothing against some good brutal death stuffs. The zine is written in French for the first half, in English for the other half. The interviews are cool and long enough for most. The reviews are quite honest (He doesn't seem to hesitate to underline the lack of cadaverous smell) even if the words can always be discussed... but it's a FANzine, and since it's honest enough, that's cool with me!
I'd advice him to use a smaller text size (to have more content) and avoid the few hand written logos.
It's a cool first issue, and I wish him more underground putridity in the future!
Interviews: TERRORAMA, NOCTURNAL, KAAMOS, PENTACLE, NECHROS CHRISTOS, DEEP VEIN, ASKARIS.
Email: Cadaverous_smell@hotmail.fr