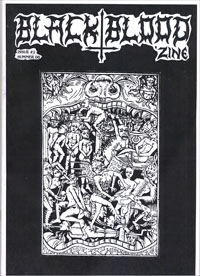 BLACK BLOOD #2
It's always cool to discover new paper zines, since you could expect more personality in the writings than what is usually flooding the web... But I noticed more fanzines begin to use more and more the excuse of the old school and "It was better before" to build something with not much personality or opinions inside... That's kinda the problem of BLACK BLOOD.
Even if the content is rather focused on "Old styled", or better said follows an "Opposite to the mainstream" approach, I didn't find much differences from the usual spiked and metallic zines: It follows the same usual ideas, with some kind of serious approach... The fact I'm not a big black metal fan might not help to enjoy most of the rather black metallic content, but everything is more than a matter of tastes...
First big problem: In the interviews the questions are short, lack of depth or are too cliché, really! ("Do you think that black metal is still underground"… Well…)
Second problem: I need more criticism in the reviews... Now, we the readers, know the styles he likes, but more criticism and brainstorming can only make it more interesting...
The layout looks serious, done with a text editor à la Winword, but nothing particular.
The content might appeal to some younger maniacs (Mostly into black metal) with a taste and wills to discover more of the old spirit, but apart from the fact "Metal was better before" and "Underground rules", what will I remember? Hu... Maybe the MARTYRVORE interview, because it's the first one I read... But anyway, Satan deserves more depth, or craziness... or both.
INTERVIEWS: HEPTAMERON, NOCTURNAL VOMIT, ATAVISM, PUTREFIED GENITALIA, ANAL VOMIT, SABBAT, CRUCIFIRE, EQUINOXIO, DEATHEVOCATION, VARATHRON.