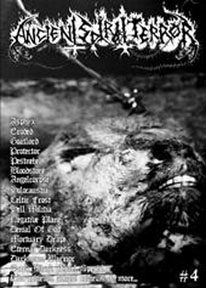 ANCIENT SPIRIT TERROR #4
This is fat, this is ugly, but you want it anyway.
This is 140 pages long, this is all about the uglier kinds of metal and you want it to trap your eyes and mind into these parchments of graven morbidity.
ANCIENT SPIRIT TERROR is a solid fanzine, strongly focused on the ugly side of the old school, generally taking it to the darkened forms of Death metal and black metal (Even if touches of brutality can be felt), with generally long and quite deepened interviews (It also depends on the bands... The editors did their part of the fornicating deal) you'll enjoy if you're into the macabre side of existence.
The layout is professional, and computer done, yet with keeping an obscure little aura. It sometimes remind me of TALES OF THE MACABRE zine with maybe a bit of SLAYER Mag (Decorative drawings).
There's also quite a lot of morbidly enthusiastic (Maybe too much) reviews from the underground... Well, I was surprised to notice the absence of demos' reviewers (So it's not excavating so deep in the toxic underworld). I'm also a bit dubitative with the "darkness for darkness" spirit of some bands featured in there, but it's quite usual...
I didn't read everything yet, but I've inhaled enough occult smoke from this issue to spell these words: This is a solid fanzine that has enough strength and qualities to please those who are in the necro kinds of Death and black metal more than a little. If you feel concerned, hurry up because it will be one of his last paper manifestations.
Interviews: ASPHYX, PROTECTOR, ANGELCORPSE, HOLOCAUSTIA, CELTIC FROST, FUNEBRARUM, GOATLORD, PESTNEBEL, ERORDED, BLOODSTONE, HELL MILITIA, NEGATIVE PLANE, DENIAL OF GOD, MORTUARY DRAPE, ETERNAL DARKNESS, DARKMOON WARRIOR, ANAEL, REIGN OF TERROR, GRAVEN...
c/o Vasili Vasilopoulos, PO Box 104108, 44041 DORTMUND, GERMANY.
Email: Ancientspiritterror@yahoo.de