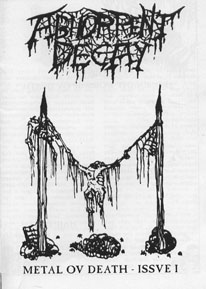 ABHORRENT DECAY #1
This is a new Death metal fanzine focused on the older variations of the genre, and preferably the Swedish ones.
It's in fact quite small, containing 40 A5 pages that were computer made. Some interviews are quite cool (EXCRUCIATE, MORDICUS, SLUGATHOR) while some are really short (SWALLOWED, MIASMAL) and would deserve much deeper skull digging. There are also reviews.
It can be felt the editor is quite young, he seems to like veeery much everything old school and cool/ decent in the Death metal style... While I would prefer a bit more of analysis, personality or anti-cult manifestos (héhé)... Maybe it will change with time.
Well, the real problem lies in the fact his webzine was more promising, it contained longer interviews and more content, while this first paper issue is too short and tastes like it was rushed... I'm quite disappointed: He can do better.
So, this is an average first paper issue that could be appreciated for some qualities (Enthusiasm of the editor, will to focuse on real Death metal) but should improve if he wants his second issue to be more than another short zine on the pile of zines... If you want to kill, build your weapons!
Interviews: EXCRUCIATE, ANATOMIA, GRAVEYARD, SWALLOWED, MORDICUS, ALTAR, MIASMAL, SLUGATHOR.
c/o T. Heumesser, Rembrandtsrt. 18/7, 1020 WIEN, AUSTRIA
Email: terrorghoul@gmail.com