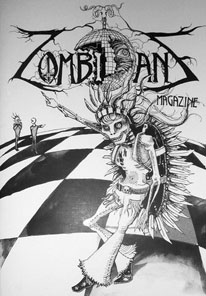 ZOMBI DANZ #1

Here's a very nice fanzine that doesn't rely on actuality, as the editor took a couple of years and interviewed mostly bands he personally listens to on a regular basis. So the interviews are very cool to read and the content is personalized with a cool knowledge about the existence of the bands.
Some might see the interviews as outdated (4 years old or something) but since a good part of those bands are from the 80's or 90's it doesn't matter at the end.
The content deals with old school metal; Black metal, heavy metal, thrash... I didn't read all the black metal inties, but from all the interviews I explored all were at least nice, and often cool.
There are no reviews or articles, only interviews.
The layout is quite nice, clear computer typed texts with drawings in the margins... It reminds me of old zines like SLAYER Mag or perhaps DESECRATION OF VIRGIN.
It's a very nice zine that really fits the meaning of the word "Fan - zine". 60 pages. A4. In English.
Email: zombidanzine(a)gmail.com

Interviews; BULLDOZER, BLASPHEMY, WITCHFYNDE, ARCHGOAT, POISON, SADISTIK EXEKUTION, DENIAL OF GOD, CULTES DES GHOULES, UNGOD, POSSESSION, HOLOCAUSTO, XIBALBA, VERMETH.