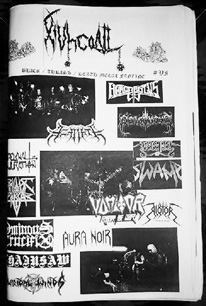 XIUHCOATL #6
When the internet is too full, the fanzines will walk the earth!
(If this deformed horror movie sentence could be some kind of prophecy...)
This fast A5 zine from Mexico is focused on old school metal (Black/ thrash/ death) and hopefully it's not written in Mexican.
The 132 English written pages mostly come with quite long interviews (Average size 15-20 questions... Maximum size: 43 questions! Apparently internet viagra isn't needed here), but also with quite many reviews of records, tapes and fanzines.
If you know fanzines from South America, you already noticed their english is often a bit strange (We probably don't think the words in the same manner), but I have seen fanzines to be harder to understand than XIUHCOATL and the headitor makes the effort to ask a lot of questions. (Perhaps reviews are a bit longer than usual zine fornications).
This fanzine is for (deep) underground die-hard head-metals who like to drive the hard way to discover underground outfits and avoid the web's plasticness.
"Cut all the computer wires, with a chainsaw!" (This is the voice of the cyber Antichrist)

Interviews: AZARATH (Pol), AURA NOIR (Nor), VOMITOR (Oz), SUICIDAL WINDS (Swe), POISONOUS (Bra), CHAINSAW (CHL), DIABOLIC FORCE (Bra), RIOTOR (Can), INFERNAL CONJURATION (Mex), OMINOUS CRUCIFIX (Mex), V.R.P.I (Mex), HERCOBULUS (Mex), SWAMP (Grc).
Email: hypnozzia(a)hotmail.com