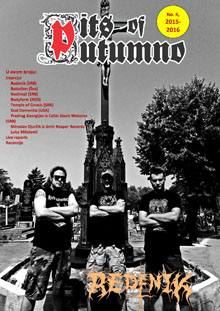 PITS OF UTUMNO #4
IF YOU GAZE TOO LONG INTO THE ZINES,
THE ZINES WILL ALSO GAZE INTO YOU...
AND THEN REPLICATE CATASTROPHIC PARALLEL WORLD INCARNATIONS OF YOUR EXISTENCE...
Just kidding...

This is a metal fanzine from Serbia focused on underground metal (Nothing from the bigger bands or "underground major" labels apparently). Even if the name could let you imagine it's a pure death metal zine ("Pits of utumno" if a song of MORGOTH) the content is varied between death, thrash and black... Not really old school, this is just not too modern stuffs...
The 76 pages contain a half of interviews and a half of reviews (Records and a couple of live reports). The inties are of a regular length, while the reviews seem to be longer than the usual (For a fanzine). Since everything is written in Serbian I'm not able to write down much of opinion or analysis, but at least you can notice this zine is in existence :-)
What I found and I'm looking at is a PDF file, the pages all look computer made with color pictures (Layout is ok/ clear, but nothing special)... Some websites seem to say this fanzine was released on paper, but I don't know if it comes in color or black'n white.
That's what I'm able to say about this issue.
Just remember: If you gaze too long into the zines, the zines will also gaze into you...
Facebook group: Click here