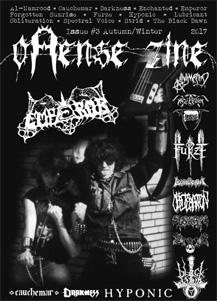 OFFENSE #3
If you like to read fanzines, you know they aren't so easy to find.
New fanzines appear almost spontaneously in the dark, and often disappear after one or two issues. You have to search obscure shops and specialized forums to know about some of them. You can't follow anymore the new issues of the editors because they will disappear once you learnt about them, or they will switch to another social media, or they won't promote their stuffs brutally enough... Well, this is the 2018 underground...
Here is a (quite) new fanzine from Estonia that focuses on black and death metal (With a bit of heavy and doom). It contains only interviews.
The exchanged words are nice and quite informative, but not over the top.
From those I read, the one of LUBRICANT was cool, the one of OBLITERATION was quite cool, the one of DARKNESS was okey, then there is a lot of black metal (I Didn't read most of it).
The layout is okey, in a computer made manner, and there are fonts to imitate old typewriters, but I saw more visually attractive fanzines (To use drawings in the margins, or reduce the size of the fonts would be nice);
Well this is a quite good zine, it could please fans of underground black and death metal.

Email: info(a)offensezine.com
Website: http://www.offensezine.com

Interviews: DARKNESS, CAUCHEMAR, ENCHANTED, EMPEROR, FORGOTTEN SUNRISE, FURZE, HYPONIC, LUBRICANT, OBLITERATION, SPECTRAL VOICE, STRID, AL NAMROOD, THE BLACK DAWN...