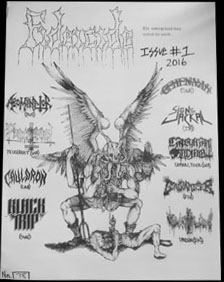 FIDEICIDE #1
You donít see the appearance of new fanzines so often anymore, so itís nice to discover new paper publicationsÖ Especially when it talks about underground metal.
This fanzine talks about all kinds of old school metal: Death, thrash, black, heavy...
As well as most fanzines, the content is based around interviews. The ones contained in there show the editress might have made her first steps with this matter quite recently, it's not so long or very deep, but it remains nice enough and a part of the bands talk enough.
There are also a couple of reviews, it's long enough. The layout is computer made for most, with a couple of drawings or hand written things. So it's clear and looks quite usual.
I don't like the waste of space on a couple of pages (Next time, glue flyers, or put some underground infos!), and a part of the interviews are quite short... But it is how it goes with new fanzines, and for a first issue it could have been worse. I hope she will keep on doing this zine, and persevere, perhaps with the help of some peoples.

Interviews: GALVANIZER, GEHENNAH, SIGN OF THE JACKAL, CARNAL TOMB, URDUN.